When Hyperline Studio invests AVP Season 4
4 Thursday April 2013 | home
In a few words theire story and intentions…a monumental work of art in the heart of AVP
Biography
Hyperline Studio is a Creative direction and Design firm founded in 2011. It was born out of a collaboration of two designers from Marseille, graduates of The School of Fine Arts.
Influenced from different universes, they evolve in such domains as design, artistic direction and architectural video-projection. They mutually tend to shape unique forms, places and objects.
Intentions
We wish to invest common areas by pure exploitation, multiplication and a mere assemblage of triangular shapes, allowing some rare combinations of polygonal structures. For instance, a structure may suspend freely as an organic membrane. Greatly influenced by the immense world of science fiction and origamis, the amalgam of angular forms gives birth to a typology of forms, hence a unique graphic universe. A truly homogenius ambiance sprouts out and makes a mark in Space.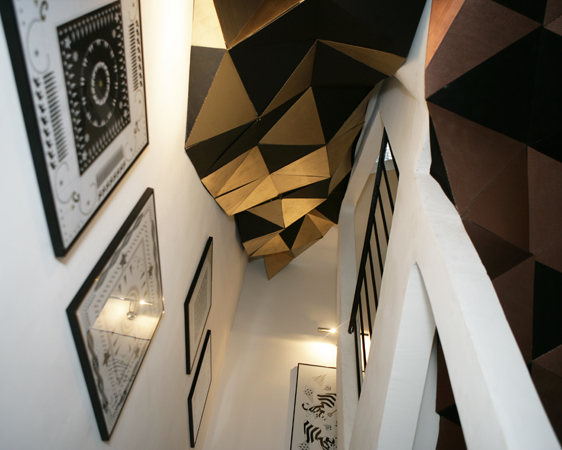 Contact: Charles Gauthier +33 (0)6 58 86 50 75 ou  Frank Mouradian +33 (0)6 15 73 11 38